Titanium Sheet/Plate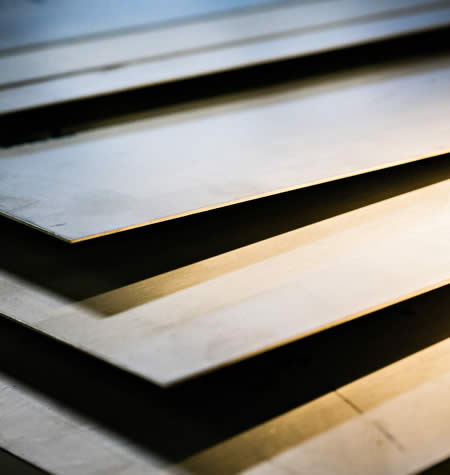 Titanium sheet and plate are commonly used in manufacturing today, with the most popular grades being 2 and 5.
Grade 2 Titanium
Grade 2 is the commercially pure titanium used in most of the chemical processing plants and is cold formable. Grade 2 plate and sheet can have ultimate tensile strength at and above 40,000 psi.
Grade 5 Titanium
Grade 5 is the aerospace grade and is not cold formable, so it is used more often when no forming is needed. Grade 5 aerospace alloy will have ultimate tensile strength at and above 120,000 psi.
Plate is often used with the goal to get really close to the final dimensions of the part being made. The material is worked to the closest size of the desired part and the grain structure of the finished piece is more homogenous. Titanium sheet is often used as a heat barrier because titanium stops the heat and does not transfer to the rest of the assembly. Titanium plate and sheet have ballistic properties making it great for driver protection in racing.
AVAILABLE SIZES:
Sheet is .016″ up to .187″ thick
Plate is .250″ up to 4″ thick
AVAILABLE GRADES
6AL-4V, 6AL-4V Eli, CP Grades 1,2,3,4
AVAILABLE SPECIFICATIONS
AMS-4911, 4907,4905, MIL-T-9046, ASTM-F136, DMS-1592, GM-3103,12TM-B265, AMS-4919, DMS-2275, AMS-T-9046, GM-3104, B50TF21, AMS-4918, DMS-1879, AMS-4909, 4910, AMS-4915, 4916, DMS-1784, AMS-4900, 4902, DMS-1536, ASTM-B265, AMS-4914
EXAMPLE APPLICATIONS
Fire wall, driver protection, valve covers, bell housings, driveshaft tunnels, brake backing plates, heat shields, rocker shaft stands, jewelry
Buy Titanium Now >>